The hall is in viale Verona 110/2, Trent – map.
To arrive at the hall:
By car:
1. From the Trent by-pass (la tangenziale), take the exit for the hospital. At the third roundabout, after the bridge over the stream, take the fourth exit for via Ghandi. This road becomes via Gramsci e curves to the right. Follow via Gramsci and at the second curve to the right there is a small street (on the left) that leads towards the hall.
2. From viale Verona, turn where there is the Pharmacy a bit to the south of the railway bridge over the road.
In any case, we ask that you do not park in front of the hall nor in the parking spaces of the apartments. There are instead a number of parking areas in the zone, that are indicated in red in this map: [click on the picture to enlarge it]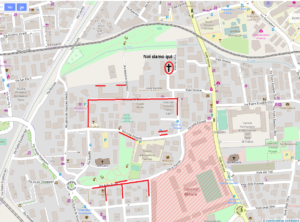 By bus
The bus routes A (station-Clarina), 3 (Gardolo-station-Villazzano) and 8 (Roncafort-station-Mattarello) stop at the intersection of viale Verona and via Einaudi. On week days, there is also the route 13 (station-Povo). Walk a bit north (towards the city centre) and turn left at the Pharmacy. Follow this street and after the curve towards the right, the hall is in front of our. This map has more details: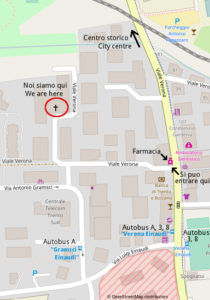 By train
From the main train station of Trent, you need to take a bus, as explained about. Alternatively, you can take a train of the Valsugana line and get off at the station Santa Chiara. From there there is a 10-15 minute walk to the hall following this route: